Women's spring elegant summer jumpsuit with stripes
Striped jumpsuit with short sleeves for spring and summer.
Fitted cut, tied bow at the waist and V-neckline will work on any occasion.
Women's spring elegant summer jumpsuit with stripes
An elegant jumpsuit for every occasion, well-fitting to the figure

Made of knitted fabric with a fashionable pattern applied with the technique of permanent printing

The classic cut will work with any styling

The material is not allergenic and does not electrify, it has very good breathing properties

Our clothes with elastane are comfortable and soft, resistant to grease, sweat and deodorants.

The material contains elastane in its composition, which ensures wearing comfort and a proper fit to every figure.

Made by a valued Polish manufacturer present on the market for over 30 years.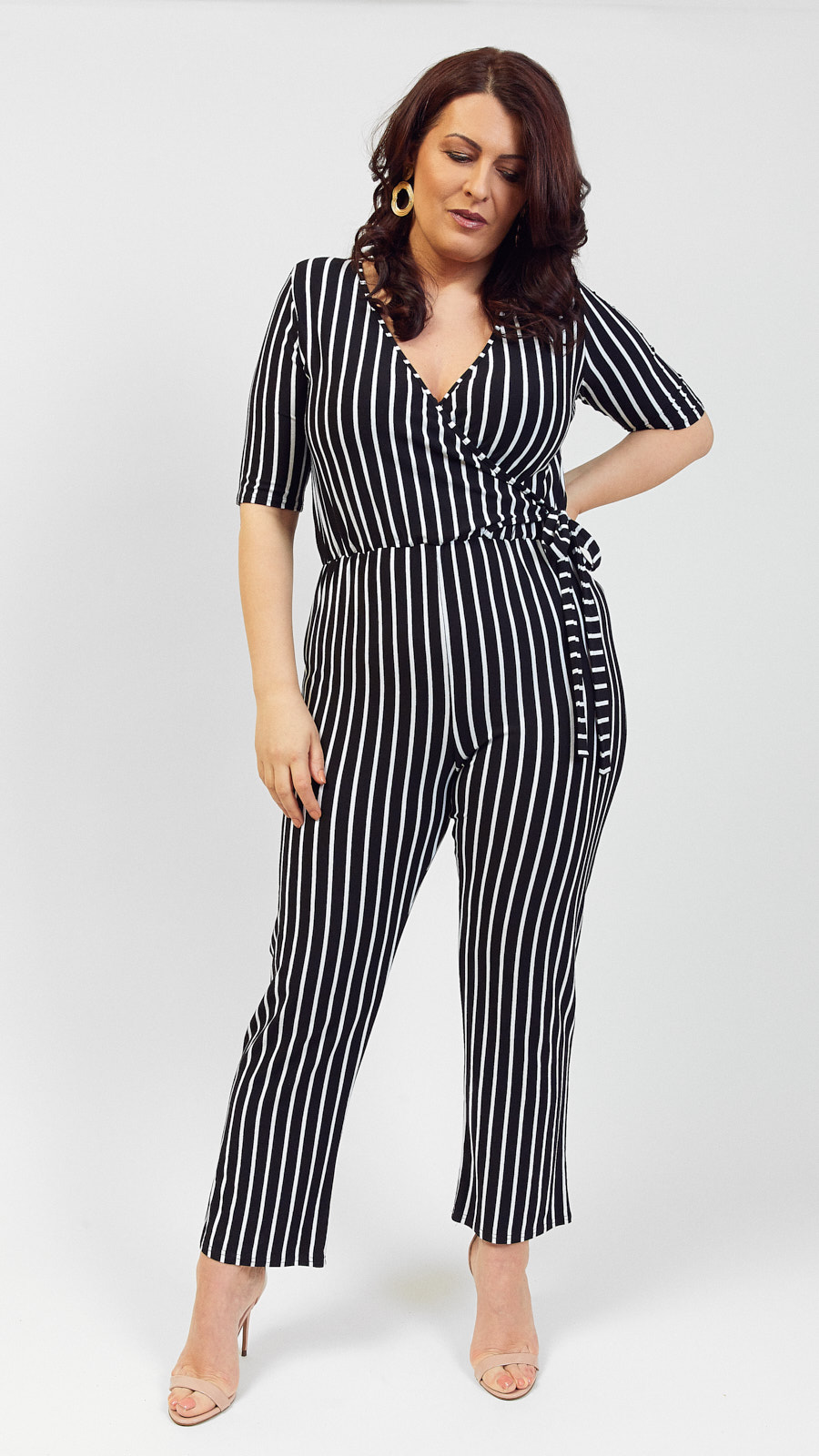 Sizes:
S, M, L, XL, XXL(larger sizes on special order)
Sleeve length:
S - 30cm, M - 30cm, L - 31cm, XL - 32cm, XXL - 33cm, XXXL-as requested
Length measured in the middle of the back to the crotch:
S - 72cm, M - 72cm, L - 75cm, XL - 77cm, XXL - 79cm, XXXL -as requested
Inside leg length page:
S - 68cm, M - 68cm, L - 68cm, XL - 69cm, XXL - 69cm, XXXL - as requested
Width*) under the armpit:
S - 45cm, M - 48cm, L - 51cm, XL - 54cm, XXL - 58cm, XXXL - as requested
Product code:
P-258-01
*) the width is half the circumference
Our model is 175cm tall and is wearing size XL. Her measurements are 112-95-115 - bust, waist and hip.
ALPI Moda - what does it mean?
30 years of experience on the market
clothing appreciated both in Poland and abroad
| Size | Numerical sizes | Bust [cm] | Hip [cm] | Waist [cm] |
| --- | --- | --- | --- | --- |
| S | 34 36 38 | 80 84 88 | 62 66 70 | 86 90 94 |
| M | 40 42 | 92 98 | 74 80 | 98 104 |
| L | 44 46 | 100 106 | 86 88 | 106 112 |
| XL | 48 50 | 108 112 | 90 96 | 114 118 |
| XXL | 52 54 | 114 120 | 100 106 | 120 126 |
| XXXL | 56 58 | 122 126 | 108 112 | 128 132 |
| 4XL | 60 62 | 128 132 | 114 118 | 134 138 |
*) width is the half of a perimeter