WARM TUNIC LETTER PATTERN 3/4 SLEEVE POWDER PINK - ALPI Moda
Light, comfortable but warm tunic made of thicker jacquard fabric with a letter motif.
Slightly widened downwards, it emphasizes the feminine figure.
WARM TUNIC LETTER PATTERN - POWDER PINK
Made of thicker jacquard knit
Perfect for autumn and winter
Expanded slightly downwards
Sewn in a comfortable cut, for every day and more!
Decorated with letter motifs in black
It perfectly harmonises with tight trousers like jeans or leggings
Material has elastane in its composition, which guarantees comfort, cosiness of wear and a good fit
Made at a valued Polish manufacturer present on the market for over 30 years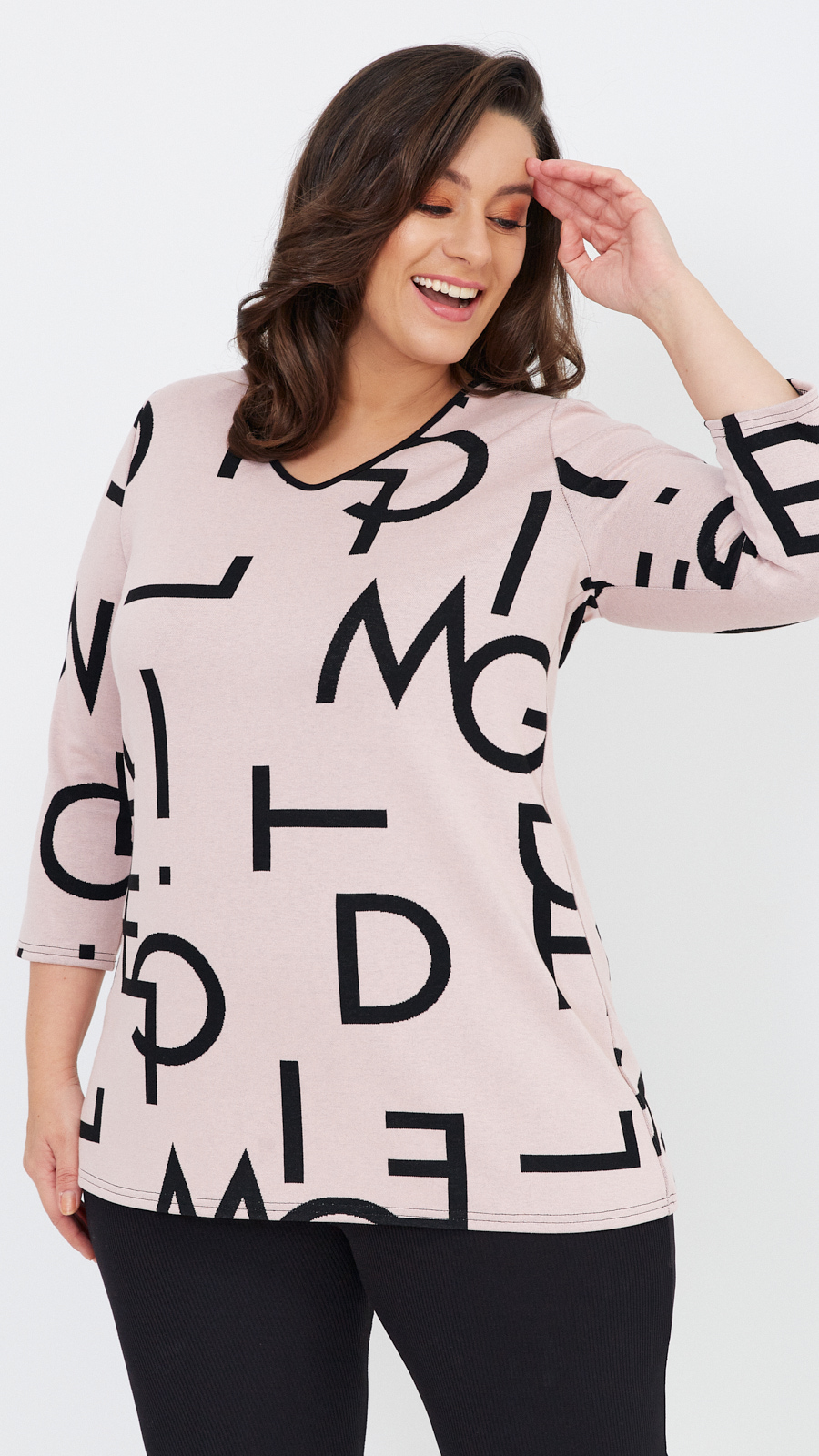 Fabric material
jacquard jersey
Colour
powder pink
Sizes
XS, S, M, L, XL, XXL, XXXL, 4XL, 5XL (bigger sizes on special order)
Length measured in the middle of the back
XS.S/M - 72cm, L/XL/XXL/XXXL/4XL/5XL - 75cm
Sleeve's length measured from the shoulder
XS/S/M - 42 cm, L/XL - 44cm, XXL/XXXL - 45cm, 4XL/5XL - 46cm
Width*) measured under the armpit
XS - 43cm, S- 47cm, M - 50 cm, L - 52cm, XL - 56cm, XXL - 60cm, XXXL - 63cm, 4XL - 66cm, 5XL - 69cm
Width*) measured at the bottom
XS - 58cm, S - 60cm, M - 63cm, L - 65cm, XL - 69cm, XXL - 73cm, XXXL - 77cm, 5XL - 80cm, 5XL - 82cm
Composition:
viscose 80%, polyester 15%, elastane 5%
Care instructions
machine wash at 30°C
*) width is the half of a perimeter
ALPI Moda - what does it mean?
Our model is 172cm tall and is wearing size L. Her measurements are 105-88-115 - bust, waist and hip.
30 years of experience on the market
clothing appreciated both in Poland and abroad
| Size | Numerical sizes | Bust [cm] | Hip [cm] | Waist [cm] |
| --- | --- | --- | --- | --- |
| S | 34 36 38 | 80 84 88 | 62 66 70 | 86 90 94 |
| M | 40 42 | 92 98 | 74 80 | 98 104 |
| L | 44 46 | 100 106 | 86 88 | 106 112 |
| XL | 48 50 | 108 112 | 90 96 | 114 118 |
| XXL | 52 54 | 114 120 | 100 106 | 120 126 |
| XXXL | 56 58 | 122 126 | 108 112 | 128 132 |
| 4XL | 60 62 | 128 132 | 114 118 | 134 138 |
| 5XL | 64 | 134 140 | 120 126 | 140 146 |
| 6XL | 66 | 144 154 | 130 140 | 150 160 |
| 7XL | 68 | 158 170 | 144 156 | 164 176 |
| 8XL | | | | |
| XS | | | | |
*) width is the half of a perimeter