Elegant women's jacket with a spring-autumn collar
Stylish, sewn in a fashionable feminine cut, a women's jacket will perfectly complement an elegant and sporty styling.
It has a classic collar and sleeves finished with cuffs. Fastened with one button.
Elegant women's jacket spring-autumn with a collar
A unique model sewn in a comfortable cut
It has a collar that adds charm to the styling
Perfect for spring and autumn
Sleeves finished with cuffs
Fastened with one button
Various accessories will create an outfit for work and for special occasions
Available in several colors
Made by a valued Polish manufacturer, who has been on the market for more than 30 years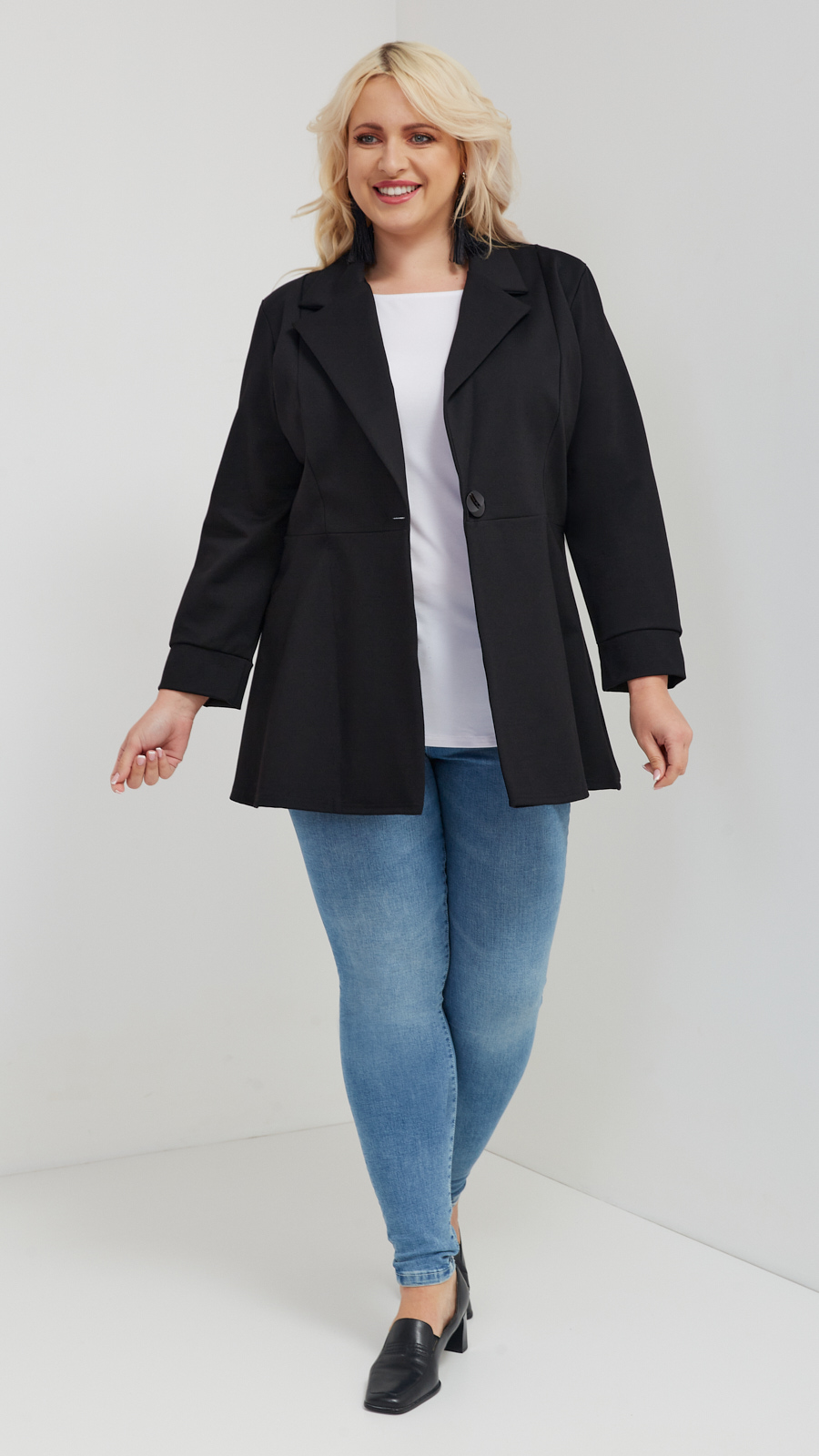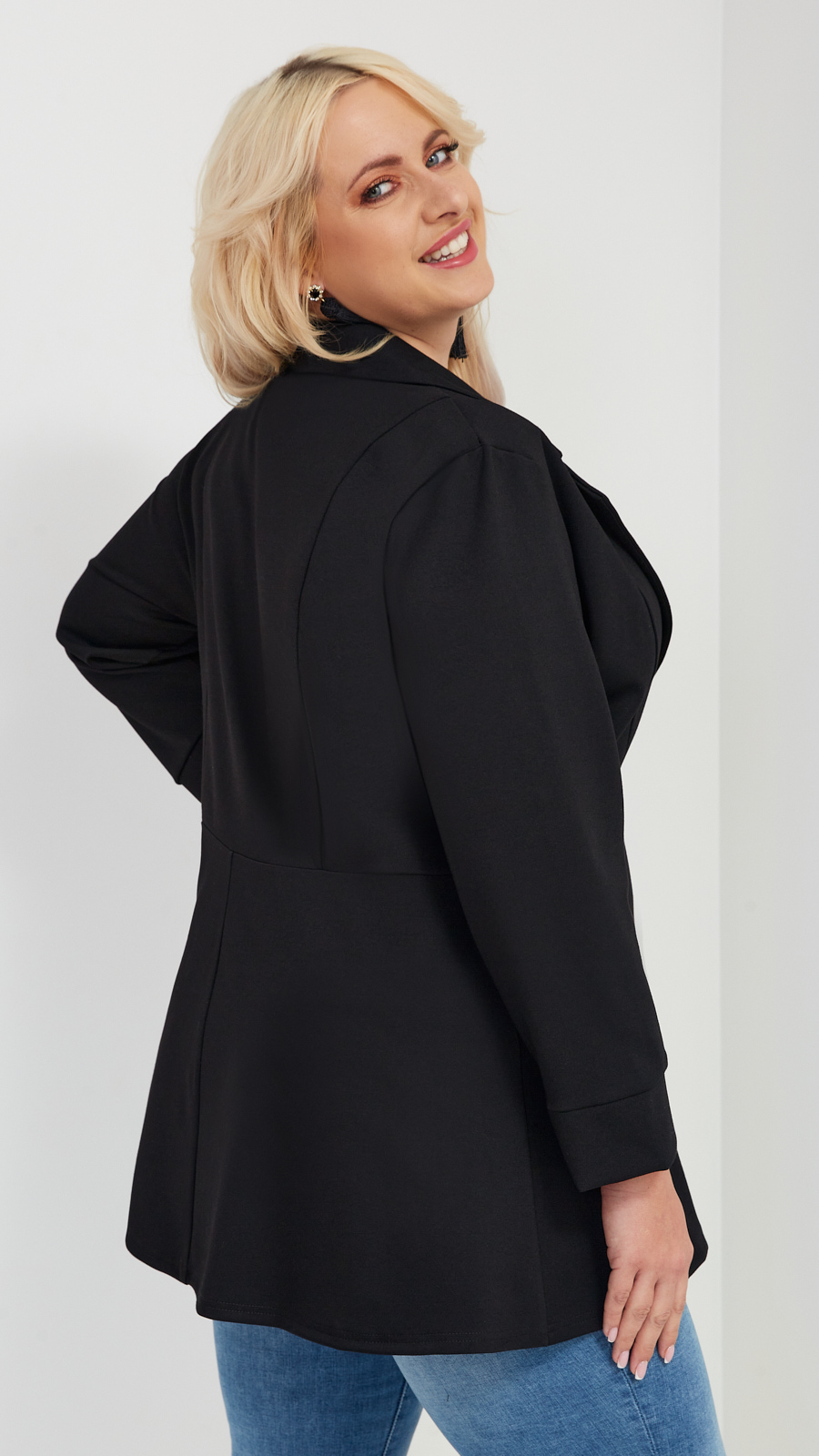 Fabric material
thicker jersey
Colour
black
Sizes
S, M, L, XL, XXL, XXXL, 4XL, 5XL (bigger sizes on special order)
Length
S, M- 72cm, L- 73cm, XL- 74cm, XXL- 75cm;, 3XL- 76cm, 4XL- 77cm, 5XL- 79cm (+-1,5cm)
Sleeve length
S, M- 55cm, L, XL- 56cm, XXL, 3XL- 57cm, 4XL, 5XL - 59cm (+-1cm)
Width*) measured under the armpit:
S- 46cm, M- 49cm, L- 53cm, XL- 56cm, XXL- 58cm, 3XL- 62cm, 4XL- 66cm, 5XL- 69cm, większe rozmiary wg życzenia (+-1cm)
Width*) measured at hip height:
S- 54cm, M- 58cm, L- 62cm, XL- 66cm, XXL- 68cm, 3XL- 70cm, 4XL- 72cm, 5XL- 74cm, większe rozmiary wg życzenia (+-1cm)
*) width is half the circumference
Composition
viscose - Rayon 40%, polyester 55%, elastane - Spandex 5%
Care instructions
machine wash at 30°C
Product code
P-207-01
Modelka ma 172 cm. wzrostu i ma na sobie rozmiar XXL produktu. Jej wymiary to 117-92-117 - kolejno w biuście-talii-biodrach
ALPI Moda - what does it mean?
30 years of experience on the market
clothing appreciated both in Poland and abroad
| Size | Numerical sizes | Bust [cm] | Hip [cm] | Waist [cm] |
| --- | --- | --- | --- | --- |
| S | 34 36 38 | 80 84 88 | 62 66 70 | 86 90 94 |
| M | 40 42 | 92 98 | 74 80 | 98 104 |
| L | 44 46 | 100 106 | 86 88 | 106 112 |
| XL | 48 50 | 108 112 | 90 96 | 114 118 |
| XXL | 52 54 | 114 120 | 100 106 | 120 126 |
| XXXL | 56 58 | 122 126 | 108 112 | 128 132 |
| 4XL | 60 62 | 128 132 | 114 118 | 134 138 |
| 5XL | 64 | 134 140 | 120 126 | 140 146 |
| 6XL | 66 | 144 154 | 130 140 | 150 160 |
| 7XL | 68 | 158 170 | 144 156 | 164 176 |
| 8XL | | | | |
*) width is the half of a perimeter