Cornflower blue women's tunic elegant bell sleeve blouse
A special tunic with widened bottom and sheer sleeves.
A very loose cut looks great on every figure.
Viscose is dominating the composition.
Cornflower blue women's tunic elegant bell sleeve blouse
Very modern and loose cut guarantees comfort and cosiness of wear
With different accessories you will create a creation for work, special occasions and for everyday life
The material, thanks to the dominant viscose, is very delicate and pleasant to the touch
It looks perfect on every figure, widened bottom will make your figure light
It perfectly harmonises with tight trousers like jeans or leggings
Made by a valued Polish manufacturer, who has been on the market for more than 30 years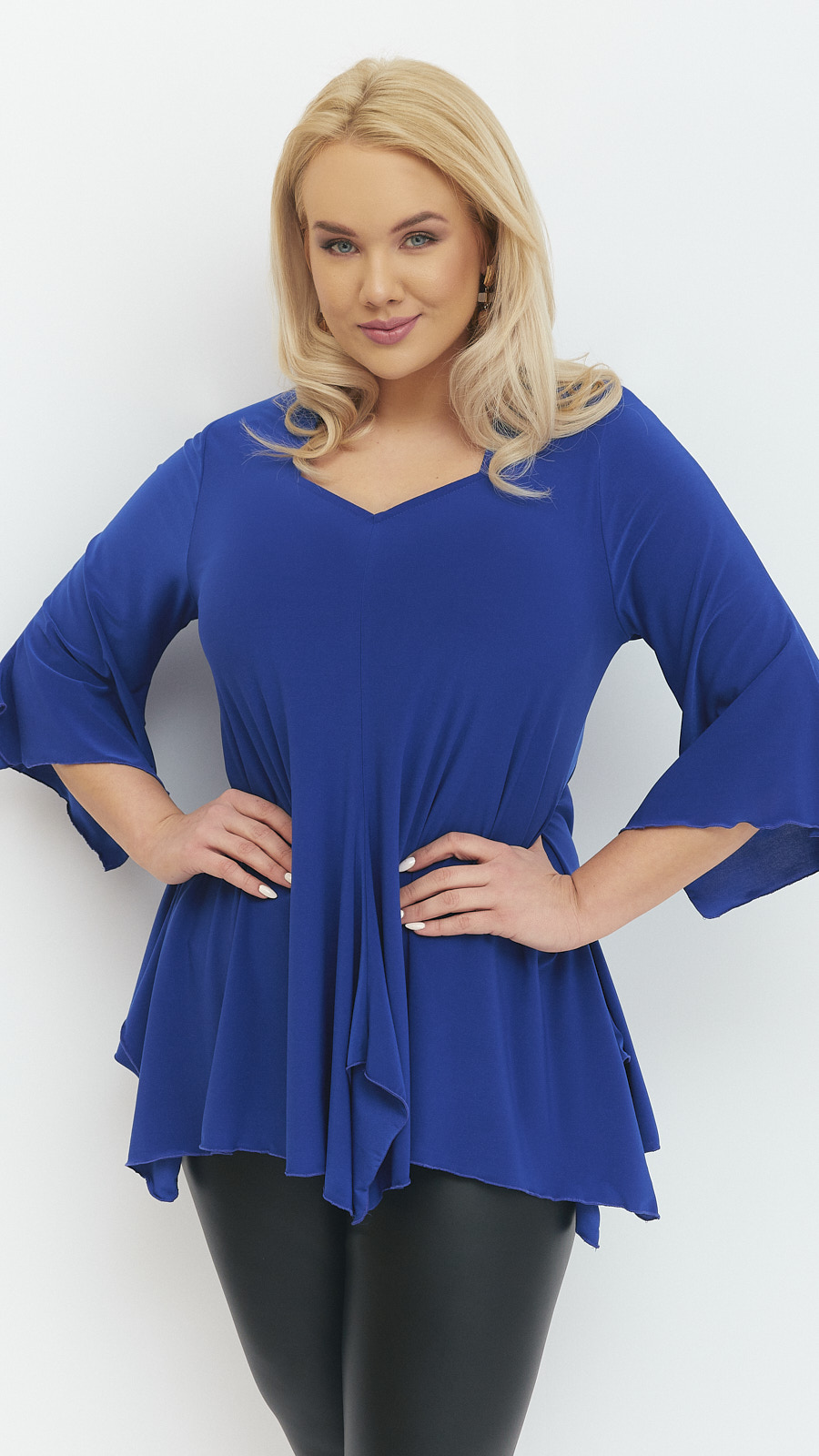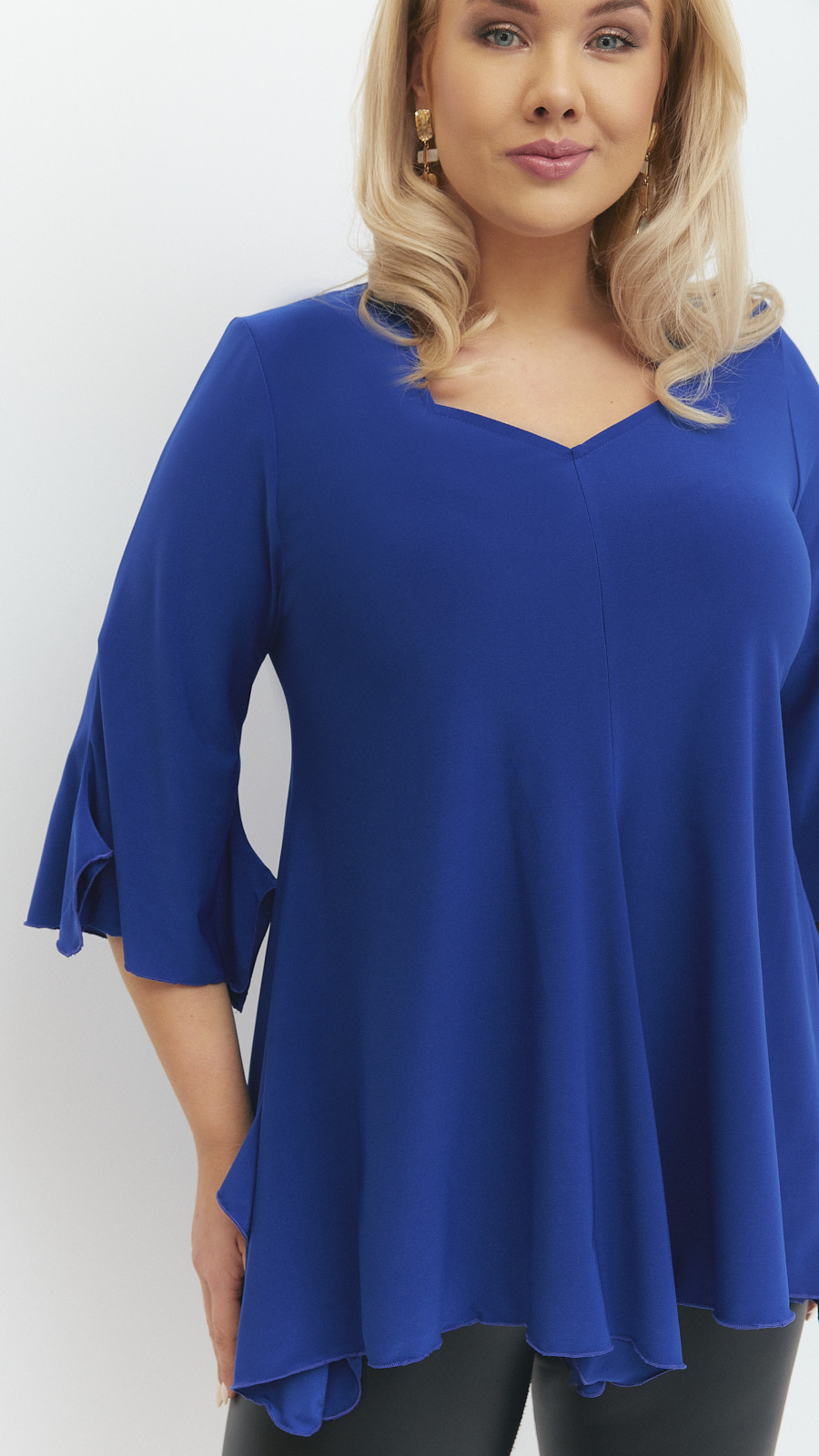 A tunic for every occasion!
With jeans and leggings!
Sizes: XS, S, M, L, XL, XXL, XXXL, 4Xl, 5XL, 6XL, 7XL, (bigger sizes on special order)

Width measured under the armpit *: XS - 70cm, S - 70cm, M - 70cm, L - 71cm, XL - 71cm, XXL - 71cm, XXXL - 73cm, 4XL - 73cm, 5XL - 75cm, 6XL - 78cm, 7XL - 80cm

Sleeve's length measured from the shoulder: XS - 43cm, S - 43cm, M - 43cm, L - 43cm, XL - 43cm, XXL - 43cm, XXXL - 44cm, 4XL - 44cm, 5XL - 44cm, 6XL - 45cm, 7XL - 46cm

Width*) measured under the armpit: XS - 44cm, S - 46cm, M - 48cm, L - 51cm, XL - 54cm, XXL - 57cm, XXXL - 61cm, 4XL - 65cm, 5XL - 69cm, 6XL - 74cm, 7XL - 79cm

Width*) measured at the bottom: XS - 114cm, S - 118cm, M - 122cm, L - 129cm, XL - 129cm, XXL - 129cm, XXXL - 140cm, 4XL - 140cm, 5XL - 144cm, 6XL -149cm, 7XL - 152cm


*) width is the half of a perimeter
Our model is 172cm tall and is wearing size L. Her measurements are 103-73-103 - bust, waist and hip.
ALPI Moda - what does it mean?
30 years of experience on the market
clothing appreciated both in Poland and abroad
| Size | Numerical sizes | Bust [cm] | Hip [cm] | Waist [cm] |
| --- | --- | --- | --- | --- |
| S | 34 36 38 | 80 84 88 | 62 66 70 | 86 90 94 |
| M | 40 42 | 92 98 | 74 80 | 98 104 |
| L | 44 46 | 100 106 | 86 88 | 106 112 |
| XL | 48 50 | 108 112 | 90 96 | 114 118 |
| XXL | 52 54 | 114 120 | 100 106 | 120 126 |
| XXXL | 56 58 | 122 126 | 108 112 | 128 132 |
| 4XL | 60 62 | 128 132 | 114 118 | 134 138 |
| 5XL | 64 | 134 140 | 120 126 | 140 146 |
| 6XL | 66 | 144 154 | 130 140 | 150 160 |
| 7XL | 68 | 158 170 | 144 156 | 164 176 |
| 8XL | | | | |
| XS | | | | |
*) width is the half of a perimeter