Women's black tunic with decorations
Tunic with short sleeves.
A fashionable cut and a material with an interesting printed pattern.
Round neckline made out of ecological leather and adorned with metallic circles emphasises the bust and makes the neck and shoulders slim.
Women's black tunic with decorations
The tunic is made out of a jersey with a fashionable print.
A cut with widened sides that make your figure slim
Material has elastane in its composition, which guarantees comfort, cosiness of wear and a good fit
The tunic has a special neckline and short sleeves
Made by a valued Polish manufacturer, who has been on the market for more than 30 years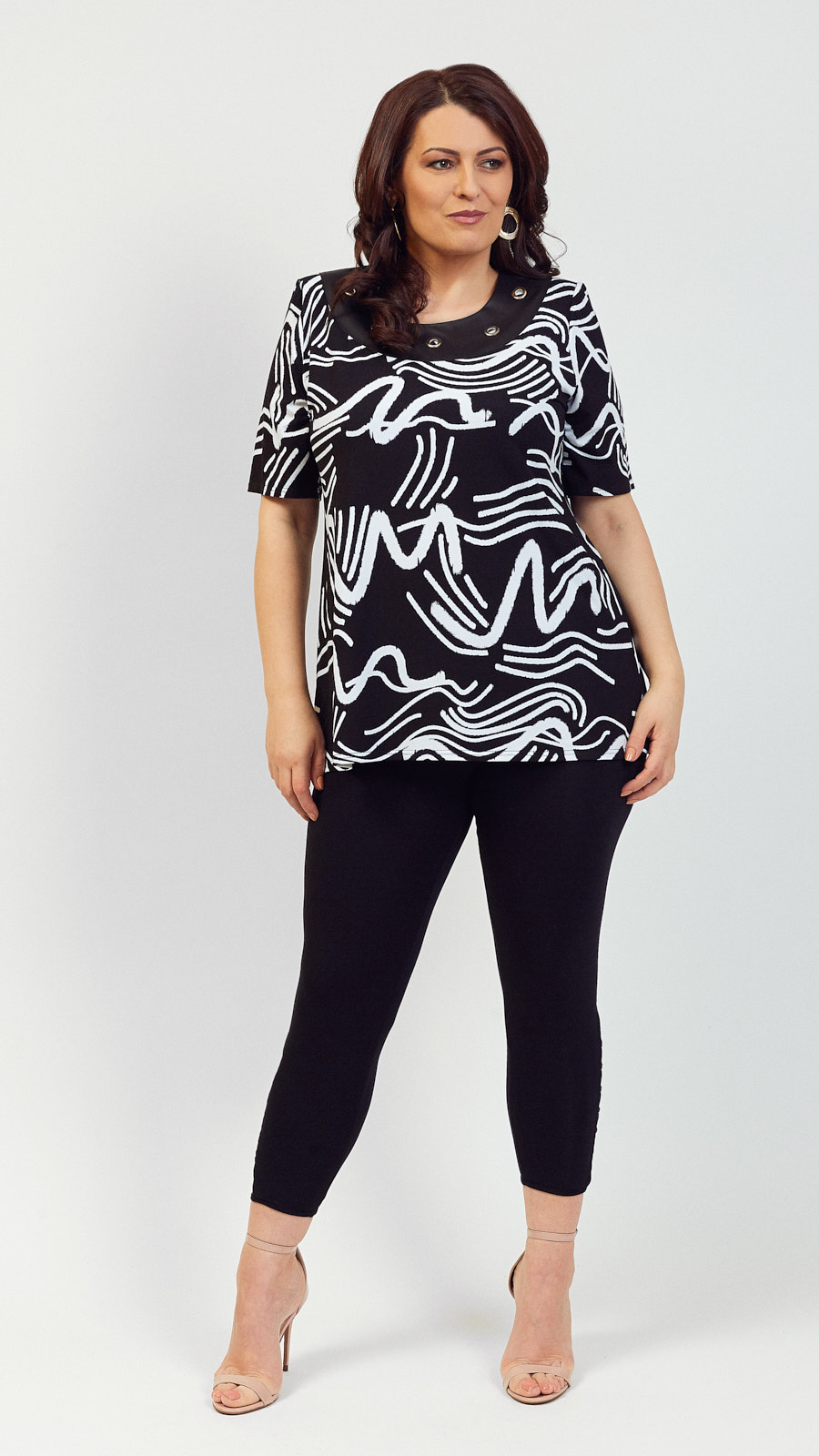 Size
S, M, L, XL, XXL, XXXL, 4Xl, 5XL, 6XL, (bigger size according to your wishes)
Length measured in the middle of the back
S - 71cm, M - 71cm, L - 71cm, XL - 72cm, XXL - 73cm, XXXL - 73cm, 4XL - 74cm, 5XL - 74cm, 6XL - 75cm
Sleeve's length measured from the shoulder
S - 27cm, M - 27cm, L - 28cm, XL - 29cm, XXL - 29cm, XXXL - 30cm, 4XL - 31cm, 5XL - 33cm, 6XL - 34cm
Width*) measured under the armpit
S - 44cm, M - 49cm, L - 52cm, XL - 56cm, XXL - 59cm, XXXL - 62cm, 4XL - 65cm, 5XL - 68cm, 6XL - 72cm
Width*) measured at the bottom
S - 61cm, M - 64cm, L - 67cm, XL - 70cm, XXL - 74cm, XXXL - 78cm, 4XL - 81cm, 5XL - 84cm, 6XL - 88cm
*) width is the half of a perimeter
viscose jersey digitally printed
fashionable pattern made with digital technique
the neckline decorated with metal inserts emphasizes the bust and slims the shoulders
Our model is 175cm tall and is wearing size XL. Her measurements are 112-95-115 - bust, waist and hip.
ALPI Moda - what does it mean?
30 years of experience on the market
clothing appreciated both in Poland and abroad
| Size | Numerical sizes | Bust [cm] | Hip [cm] | Waist [cm] |
| --- | --- | --- | --- | --- |
| S | 34 36 38 | 80 84 88 | 62 66 70 | 86 90 94 |
| M | 40 42 | 92 98 | 74 80 | 98 104 |
| L | 44 46 | 100 106 | 86 88 | 106 112 |
| XL | 48 50 | 108 112 | 90 96 | 114 118 |
| XXL | 52 54 | 114 120 | 100 106 | 120 126 |
| XXXL | 56 58 | 122 126 | 108 112 | 128 132 |
| 4XL | 60 62 | 128 132 | 114 118 | 134 138 |
| 5XL | 64 | 134 140 | 120 126 | 140 146 |
| 6XL | 66 | 144 154 | 130 140 | 150 160 |
*) width is the half of a perimeter